Description
Custom beverage bags are an excellent way to amplify take out/catering beverage profits while promoting your brand and reducing back of house storage. They come in various sizes such as the 1 and 1/2 Gallon, but are also available in smaller sizes too. Works for both carbonated and non carbonated beverages!
Beverage Bags fit more than 200 1-gallon bags into the same box that fits only twelve 1-gallon plastic jugs. This reduces required storage space and freight costs, while improving operational efficiency and sustainability. Just like jugs, beverage bags can be used blank, or for added value and additional in-home brand reach, you can customize the bags with your logo or design.
Benefits for Your Business
Allows customers to conveniently purchase beverages for an entire group, family, or office.
Promote your brand
Reduces overall emissions from transportation and freight.
Reduces shipping costs and back-house storage space needed.
Tamperproof cap securely seals beverages from spilling and contamination after the bag has been filled.
Full-color branding, convenient carrying handle, and easy pour spout with lid.
Details
Durabable Design
Reinforced Comfort Handle
BPA Free
Available in 1 and 1/2 Gallon
Integrated Pour Spout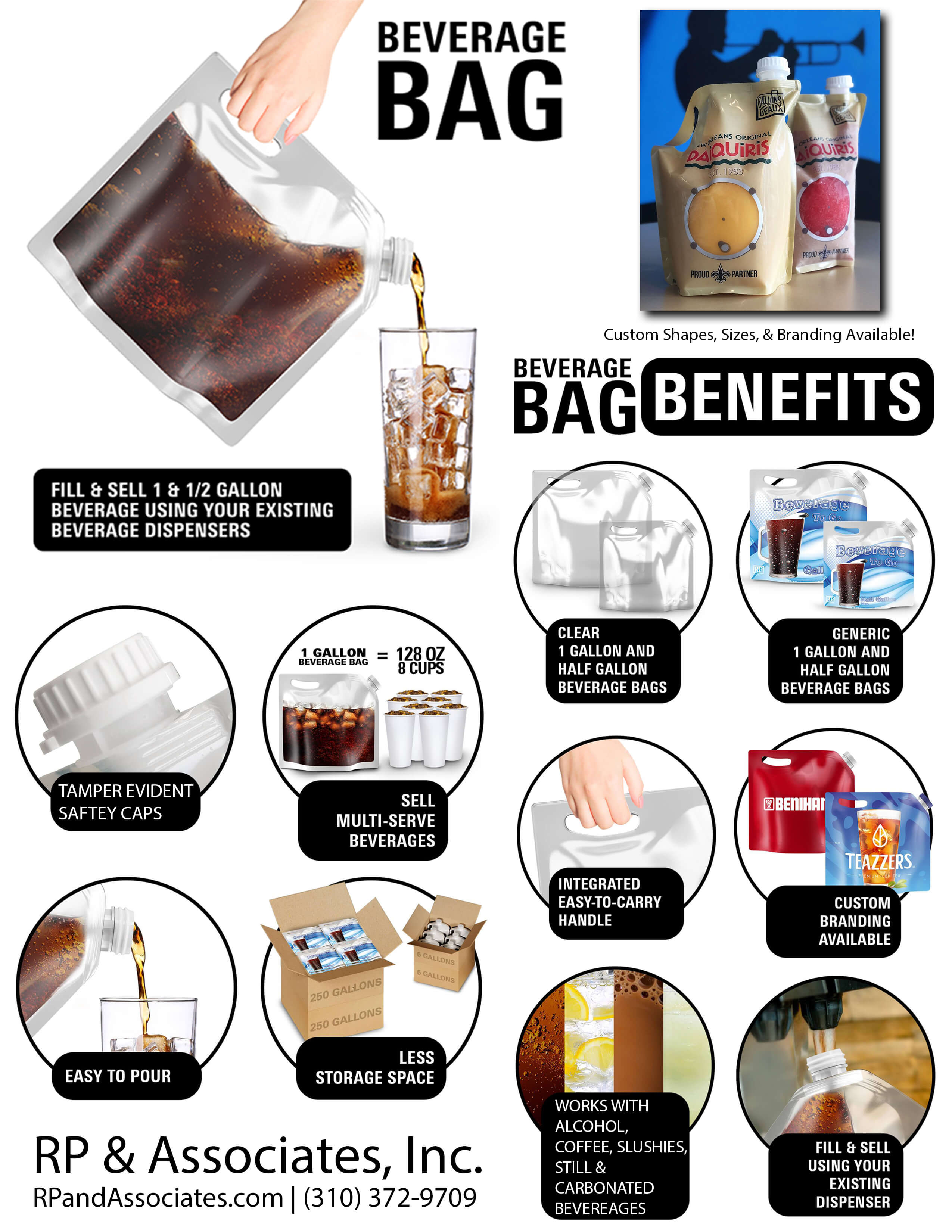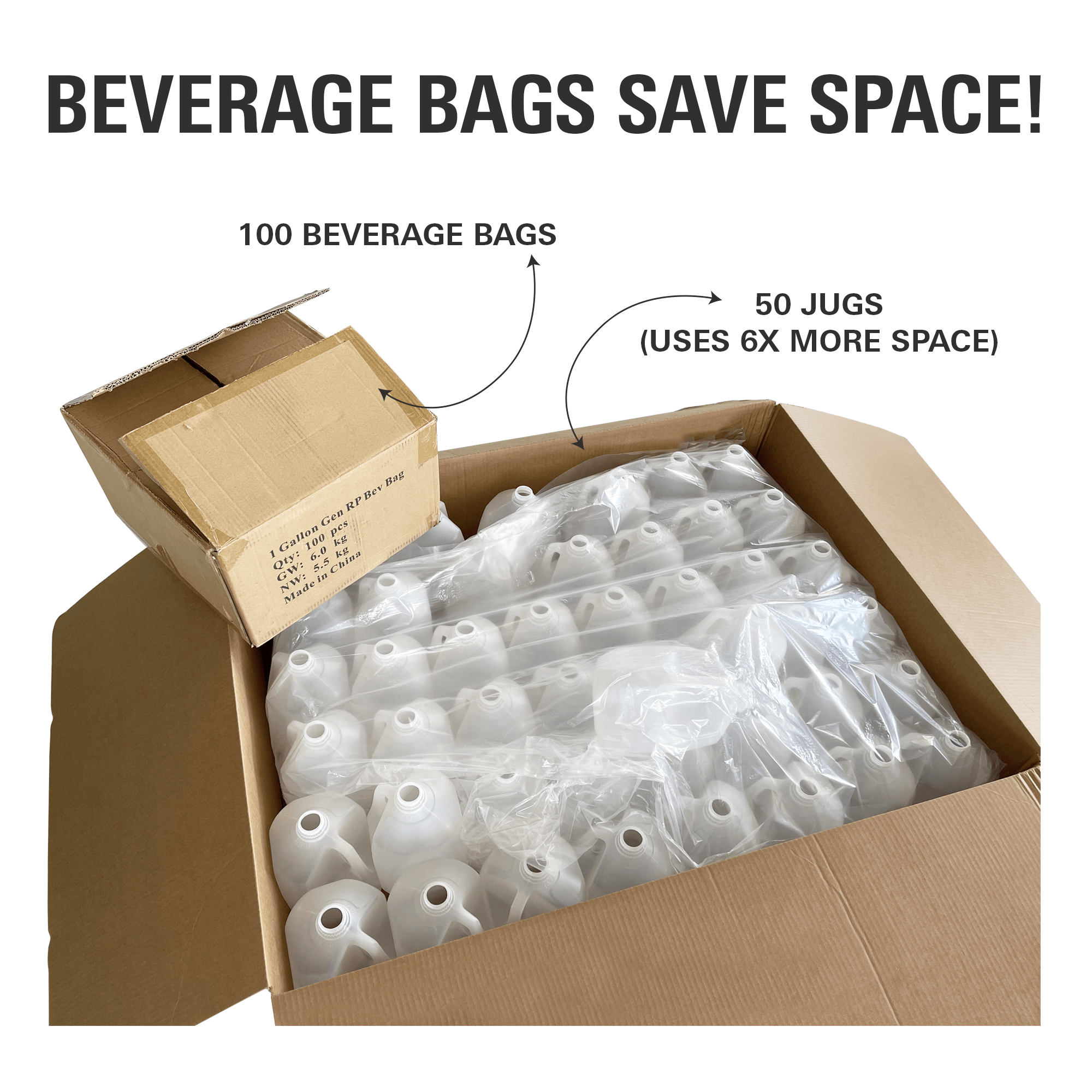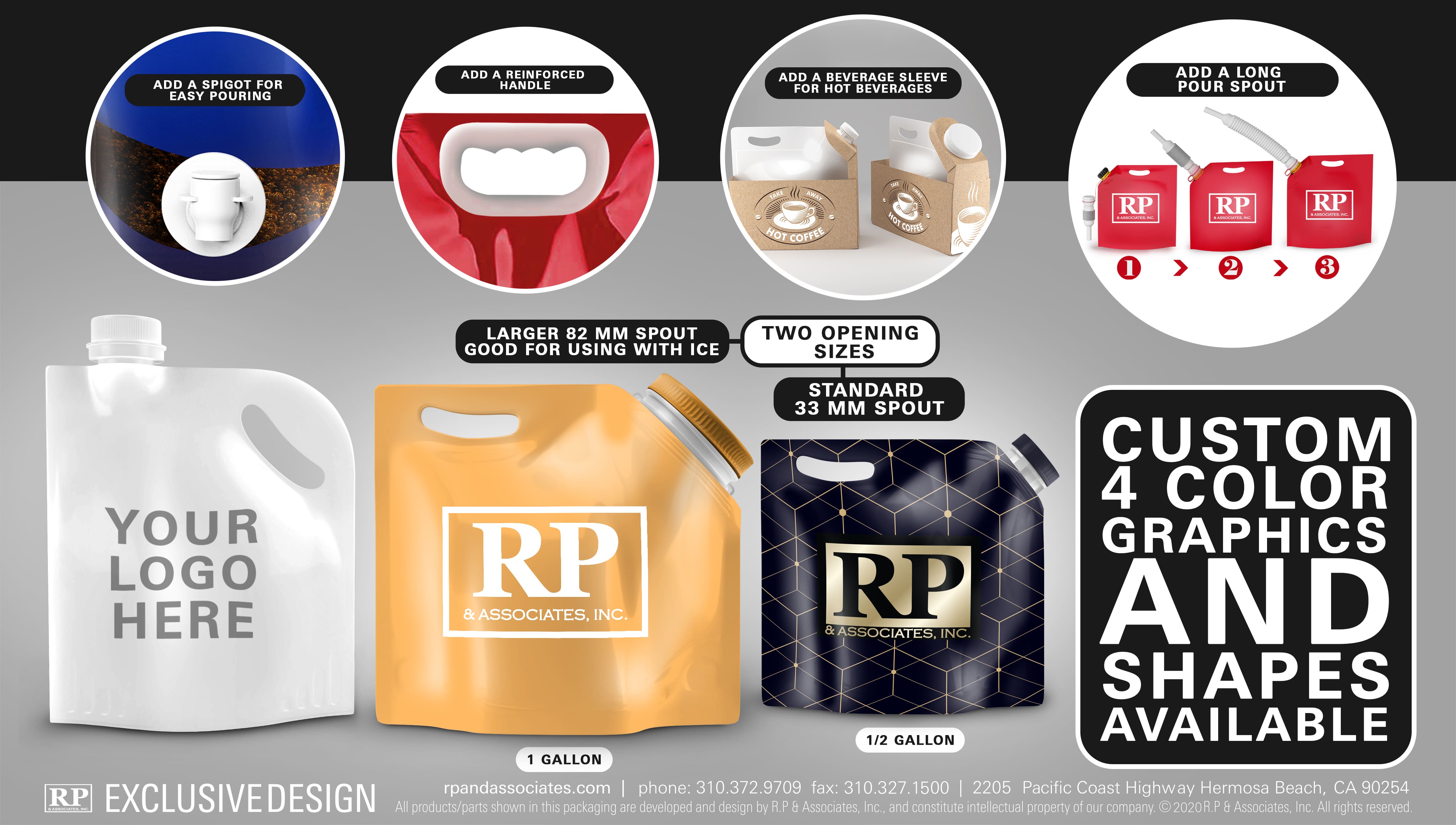 Custom Benihana Beverage Bags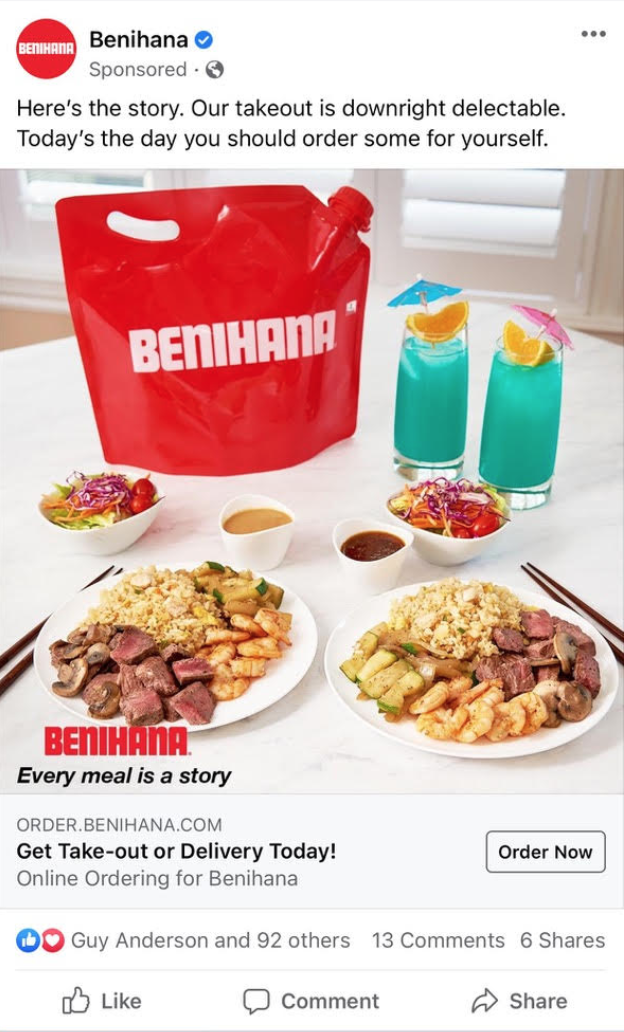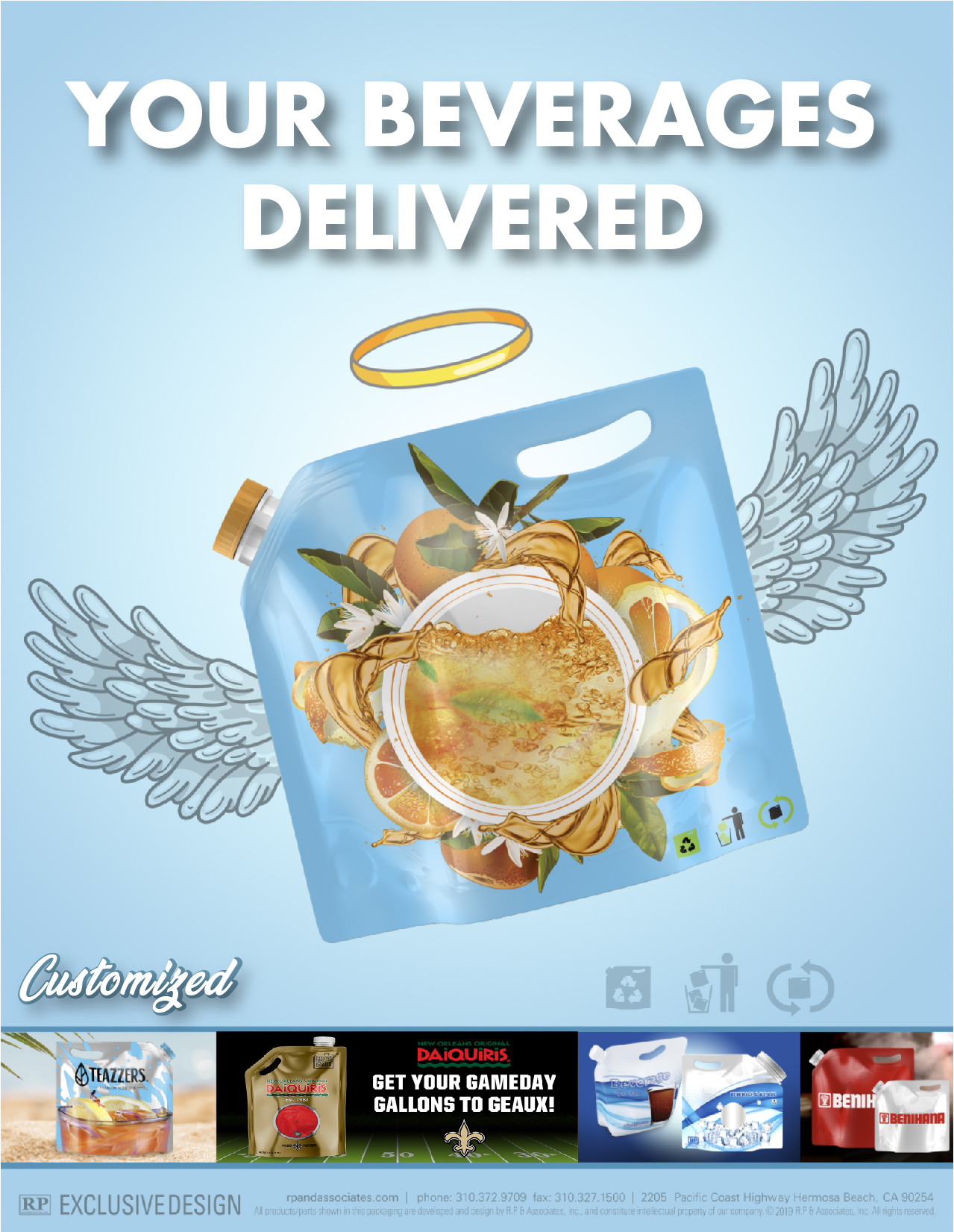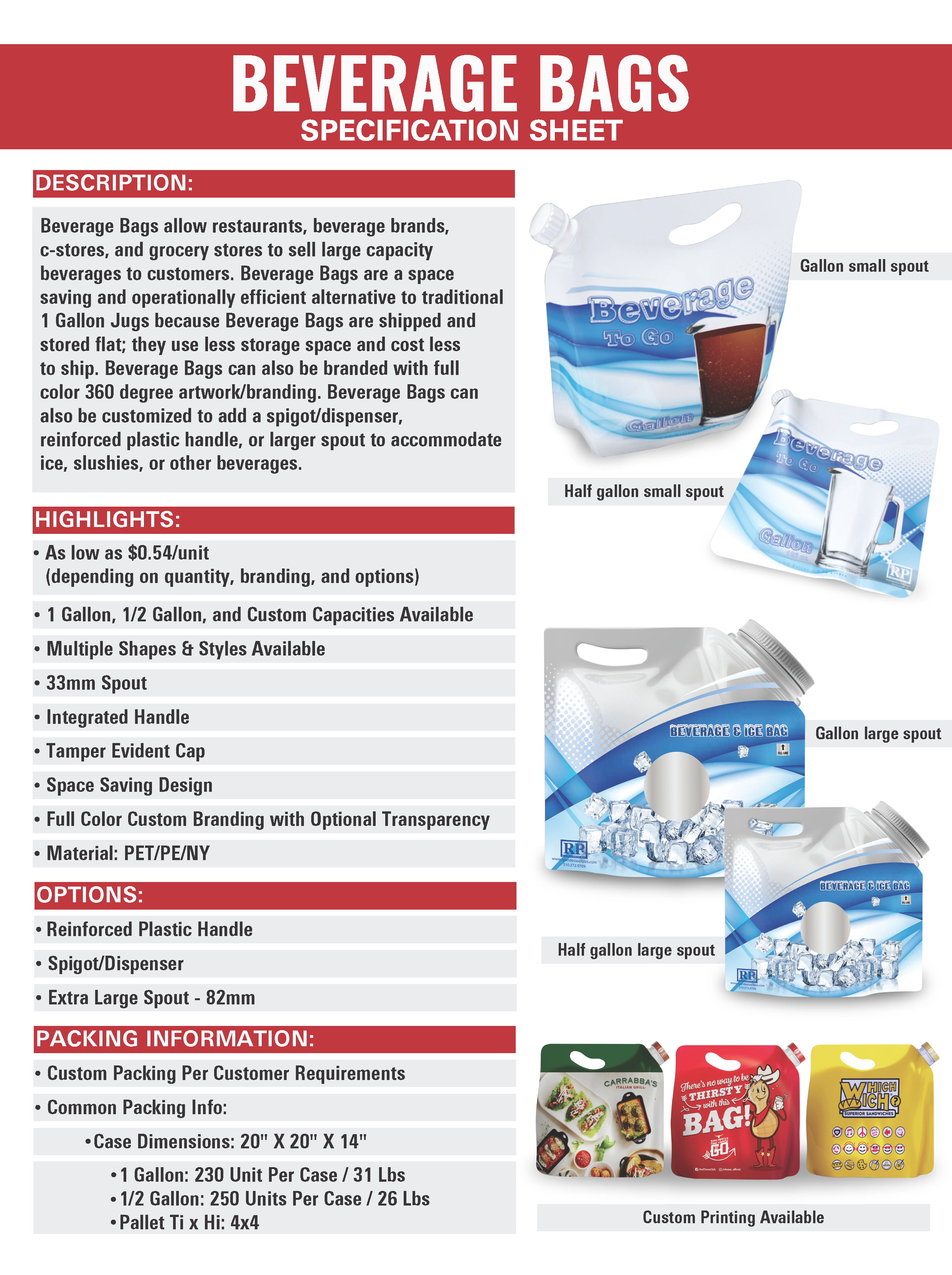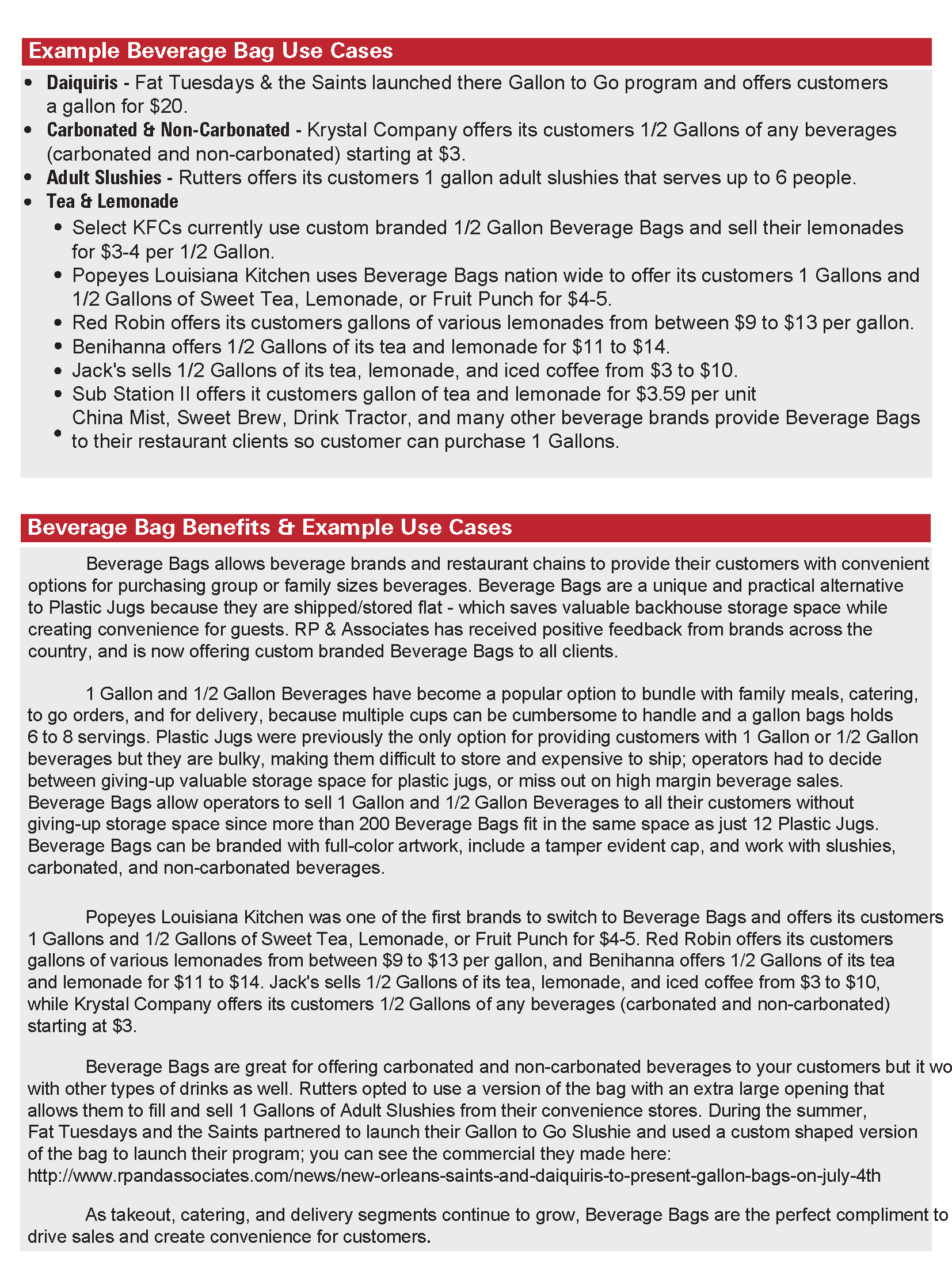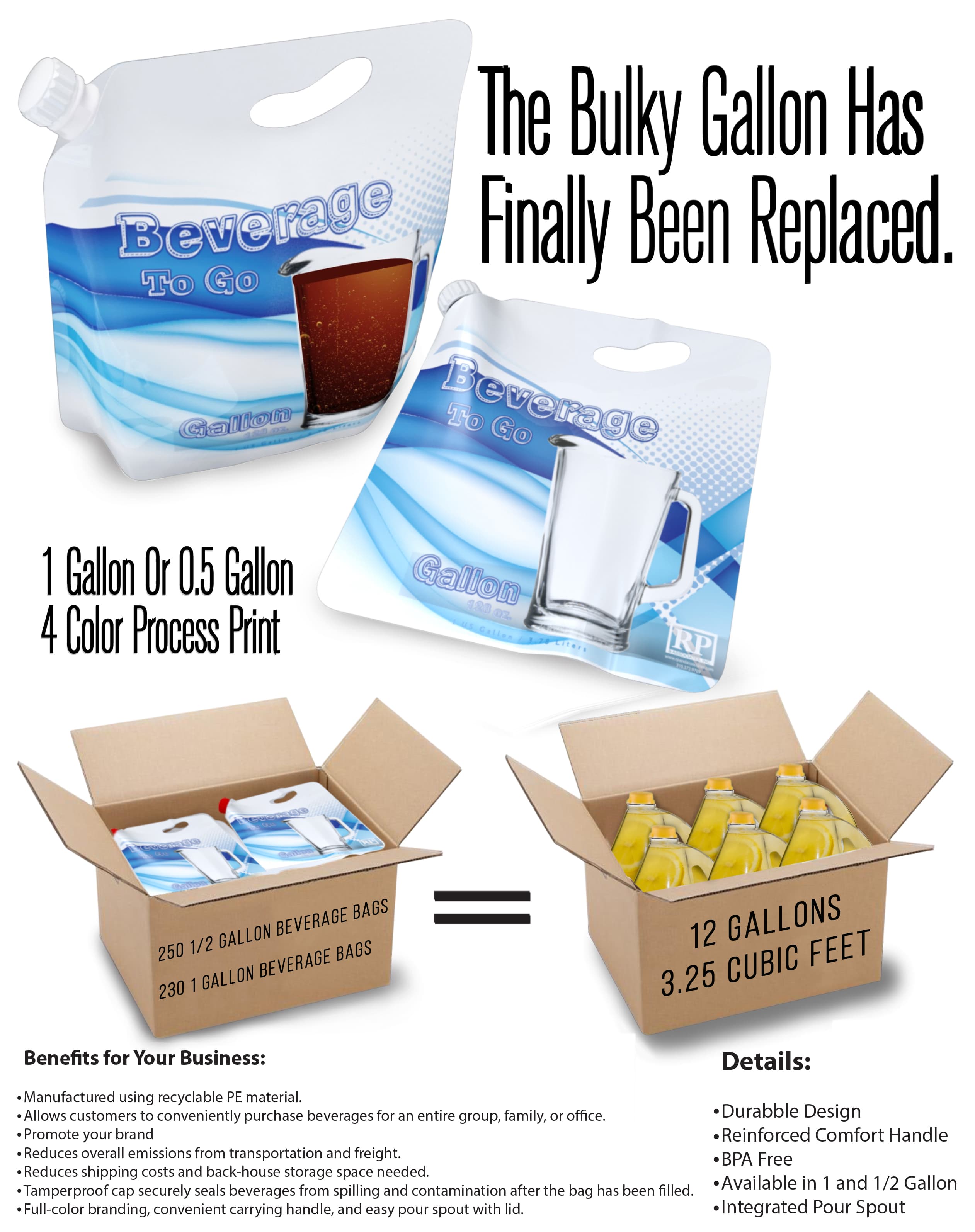 Rutter's "Adult Slushie Party Bag" by RP & Associates
After Daiqruiris and the New Orleans Saints launched their "Gallon to Geaux" Bags, the convenience store chain Rutter's just recently announced the launch of their brand new "Be The Party" Bags which will not only save space and reduce storage costs but will also increase beverage sales as well as brand awareness.
RP & Associates supplied a custom shaped and branded Beverage Bag for this program, which is now available at all Rutter's locations! Aside from Icee/Slushie beverages, our Beverage Bags can also be used for all types of carbonated/non-carbonated as well as hot/cold drinks. Click here to read the full article.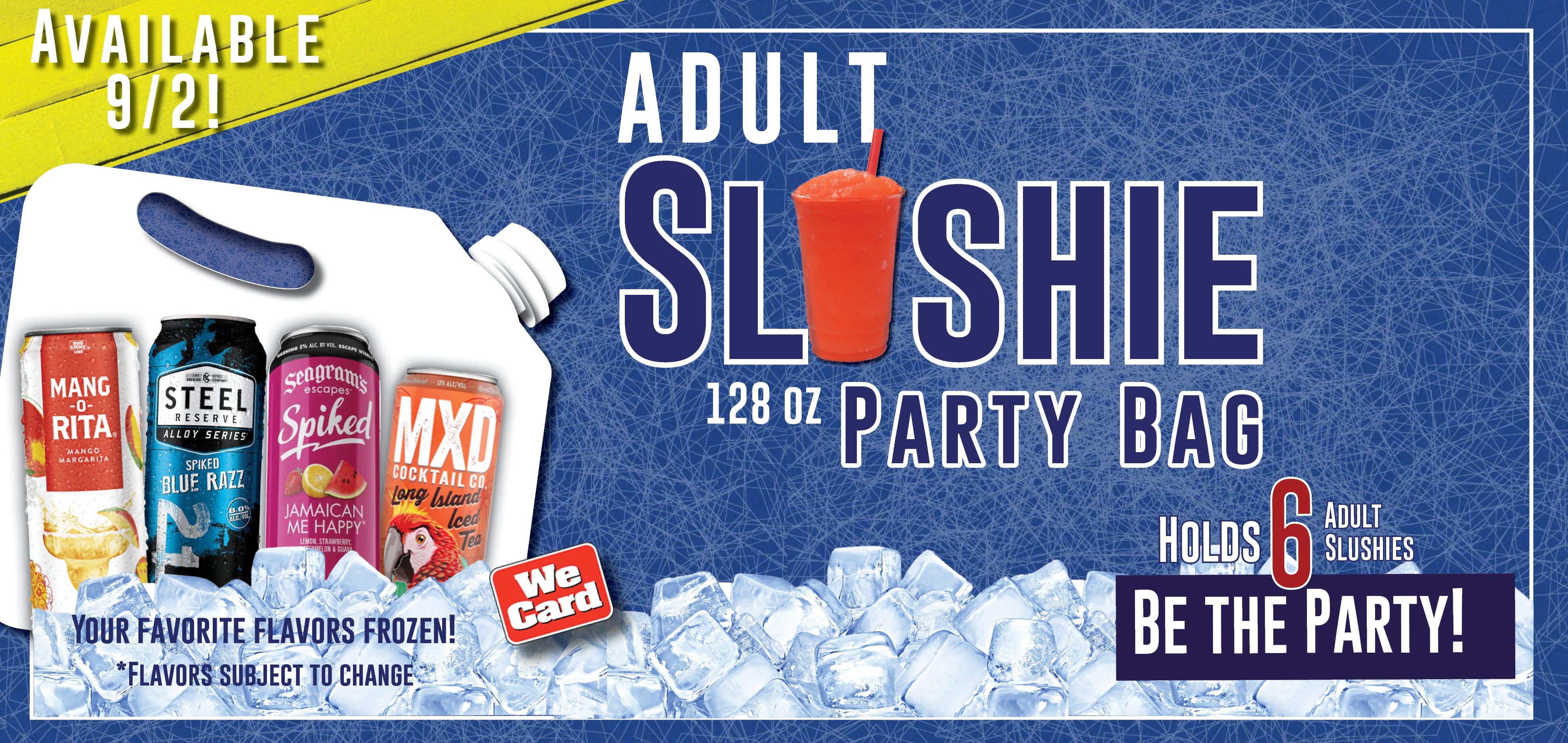 Driving Sales while Saving Space
1 Gallon and 1/2 Gallon Beverages have become a popular option to bundle with family meals, catering, to-go orders, and for delivery because multiple cups can be cumbersome to handle and a gallon bag hold 6 to 8 servings. Plastic Jugs were previously the only option for providing customers with 1 Gallon or 1/2 Gallon beverages but they are bulky, making them difficult to store and expensive to ship; operators had to decide between giving-up valuable storage space for plastic jugs, or miss out on high margin beverage sales. Beverage Bags allow operators to sell 1 Gallon and 1/2 Gallon Beverages to all their customers without giving-up storage space since more than 200 Beverage Bags fit in the same space as just 12 Plastic Jugs. Beverage Bags can be branded with full-color artwork, include a tamper-evident cap, and work with slushies, carbonated, and non-carbonated beverages.
Popeye's Louisiana Kitchen was one of the first brands to switch to Beverage Bags and offers its customers 1 Gallon and 1/2 Gallon of Sweet Tea, Lemonade, or Fruit Punch for $4-5. Red Robin offers its customers gallons of various lemonades from between $9 to $13 per gallon, and Benihana offers 1/2 Gallons of its tea and lemonade for $11 to $14. Jack's sells 1/2 Gallons of its tea, lemonade, and iced coffee from $3 to $10, while Krystal Company offers its customers 1/2 Gallons of any beverages (carbonated and non-carbonated) starting at $3.
Click here to read the full article.
"Gallon to Geaux" Bags for the New Orleans Saints & Fat Tuesday's
Beverage Bags are great for offering carbonated and non-carbonated beverages to your customers but it works with other types of drinks as well. During the summer, Fat Tuesdays and the Saints partnered to launch their Gallon to Go Slushie and used a custom shaped version of the bag to launch their program on July 4th earlier this year.
You can see the commercial they made by clicking here; the bags were also featured on Fox 8 as you can see in the video below.
MORE UNIQUE & POPULAR PRODUCTS: